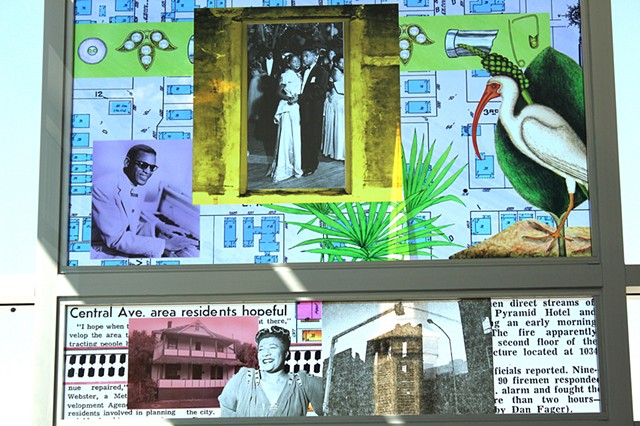 Prom photo, artifacts, Catesby Ibis, Ray Charles, Ella Fitzgerald, Jackson Rooming House, historic newspaper articles
2016
Sanborn Fire Insurance Map of Tampa, 1915. Smathers Library, University of Florida. Out of copyright
Washington Carver H.S. Prom photo, 1950. Burgert Brothers Photographic Collection, Tampa-Hillsborough County Public Library System
Ray Charles photo by James J. Kriegsmann, 1960. Library of Congress Prints and Photographic Division. With permission from James J. Kriegsmann, Jr., and the Ray Charles Foundation
Jackson Rooming House, Oct. 6, 2007. Photo author Ebyabe. Wikimedia Commons
Ella Fitzgerald, c.1946. William P. Gottlieb Collection, Photographs from the Golden Age of Jazz. Library of Congress. Public domain.
Newsprint and photo of Pyramid Hotel and Lounge fire. Dan Fager photo. Rick Nelson article. Tampa Times 8/15/74 and Abby Kaighin article on Central Avenue. Tampa Times Dec. 7, 1972. Permission from Tampa Tribune.
The White Curlew (Ibis) - Mark Catesby's Natural History of the Carolinas, Florida, & the Bahama Islands (London, 1731-1743). Irvin Department of Rare Books and Special Collections, University of South Carolina Libraries, Columbia, S.C. Out of copyright.
My drawings of scrub palmetto and artifacts.